描述
xNURBS的主要功能:
無限解決NURBS的能力:其優化演算法可以在幾毫秒內,解決幾乎任何NURBS曲面問題(無論限制條件有多複雜)。
高品質的曲面:對於給定的一組限制條件,xBURBS的優化演算法使用能量最小的方法,衍生所有可能解決方案中,最平滑的NURBS曲面。生成曲面品質十分優異。
xNURBS是一個超級強大的NURBS工具,可以解決現有CAD軟體幾乎所有的曲面問題。
容易使用:本外掛使用一個簡單的UI來進行所有類型的NURBS建模。
超級兼顧:xNURBS堅若磐石,運作無瑕疵。
原生CAD曲面:xNURBS衍生原生(CAD)電腦輔助設計曲面,即修剪/未修剪的NURBS曲面,可直接用於任何CAD建模操作中。
Product
XNurbs is powered by our own kernel, i.e., xnkernel.dll. XNurbs Rhino and SolidWorks plugins are two end-user applications that we directly develop based on the kernel. (The kernel is only available to ISV and not available to end-users.)
The demo videos, e.g., the bottom surface of Jet Ski Hull, blending, the top surfaces of a mouse, the side surfaces of a mouse and the video for creating one side surface of the mouse in "slow-motion" show how XNurbs creates high-quality surfaces based on energy-minimization method and they can be also used as tutorials.(Courtesy of Vladimir Aleksic.)
XNurbs plugin defines a set of simple rules. Once users understand these rules, the possibility of using XNurbs is unlimited, and you can use it in thousands of different scenarios/applications. Except for special cases, e.g., analytical surfaces, XNurbs is superior to traditional surfacing methods. To use XNurbs efficiently: First use XNurbs with a small number of constraints for the rapid concept design, i.e., form finding or generating a draft surface, then extract curves from the draft or concept surface, edit the curves and/or split the surface into two or more patches, then run XNurbs again to generate the refined surfaces. In terms of surface creation capacities, generated surface quality and performance, it is difficult for traditional tools to challenge XNurbs' surfacing, and using XNurbs to replace other tools produces better surfaces.
Click here to play the demo video showing the creation of the whole Bumper surfaces.
Aircraft Wing Tip (Click to play the demo video showing how XNurbs smartly blends G2 and G0 continuity along the edge of aircraft wing. Courtesy of FILOU)

GTR Car (Most surfaces of the GTR model are generated by XNurbs. Courtesy of Alexandre Galin.)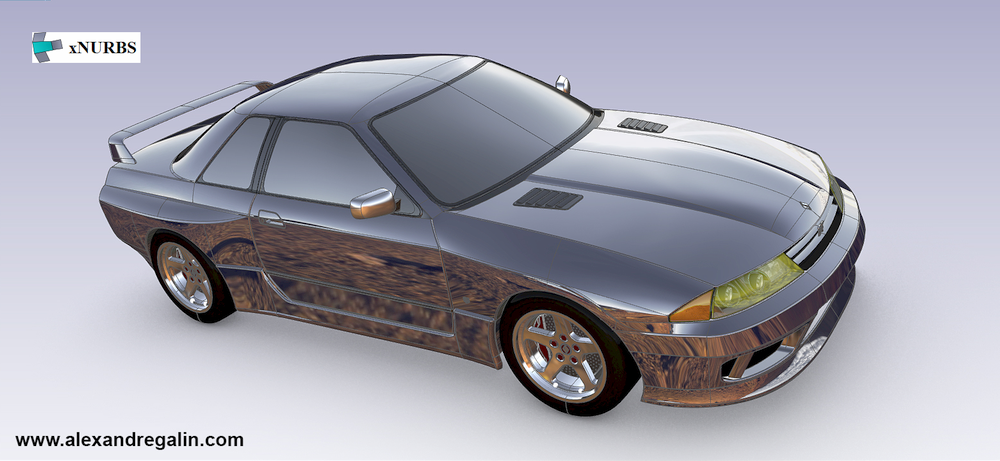 Watertight Fender (All are generated by XNurbs with G2 continuity.)

Click here to download the manual and tutorials (If the chm file does not show properly, then right-click on the chm file and select properties. You will see an "Unblock" button. Click on it. To play videos in the manual and tutorials, you need to download the whole package.).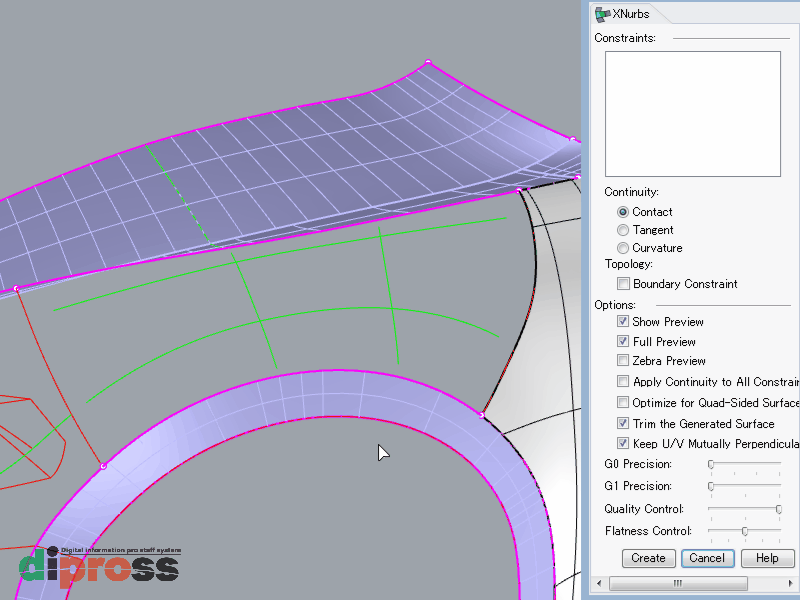 Multiblending/Lofting with G2 Continuity
Y Lofting with G2 Continuity

Filling with G2 Continuity

SolidWorks is a registered trademark of Dassault Systemes SolidWorks Corp.